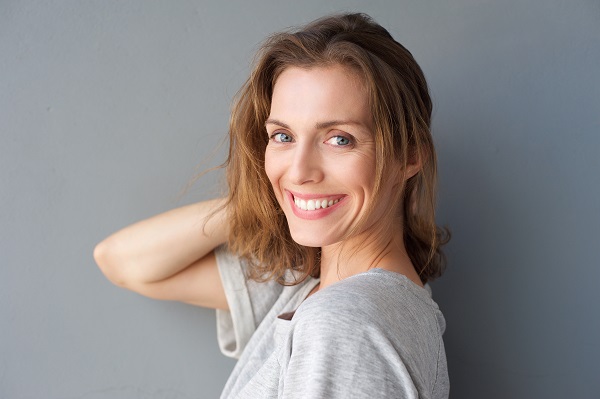 Thinking about getting a smile makeover? While not all general dentists offer their patients cosmetic dental services, many are choosing to undergo the necessary education so they can add this common dental treatment option to their list of general dentistry services. Ready to learn more about making over your smile?
About smile makeovers
Choosing to sign up for a smile makeover is a great option for dental patients who want to improve the appearance of their smile. The fact that every patient is unique makes it necessary for them to have a personalized treatment plan made. Common examples of what can be a part of this treatment plan include teeth straightening, teeth whitening and repairing damaged teeth. One popular option for repairing damaged teeth includes the use of dental crowns.
Dental crown choices
Dental crowns are very versatile, making them one of the more popular options for smile makeovers. A few examples of how dental crowns are used to make a smile over include closing gaps between teeth, covering up major tooth stains and restoring damaged teeth so they can once again function properly. The list below includes some of the more common types of dental crowns that smile makeover patients are choosing nowadays.
All-resin crowns
All-resin crowns are also known as composite resin crowns. Because this dental crown choice can be fabricated to match the color of the rest of a patient's teeth, it is commonly chosen by smile makeover patients. The fact that only a minimal amount of tooth preparation is necessary means more of the natural tooth is preserved. This dental crown choice can be used to repair teeth and/or make teeth look more cosmetically appealing, and can last upwards of 15 years.
Porcelain-fused-to-metal crowns
Dental patients who are in need of strong dental crowns in order to support the functioning of one or more teeth would rather not have metal crowns placed in their mouths. While metal crowns are considered to be the strongest type of crown, they can easily be seen when placed in the mouth. This makes porcelain-fused-to-metal crowns a great option, as while they still use metal for strength reasons, they are also made using porcelain, which is much more natural-looking.
All-porcelain or all-ceramic
According to the Cleveland Clinic, all-porcelain or all-ceramic dental crowns provide the best natural color match when compared to any other crown type. This fact makes this type of crown one that many makeover patients are choosing, especially when they are in need of crowns for their front teeth. Because this type of dental crown does not include any metal, it is also a good option for dental patients who have allergies to metal.
Which crown is the right choice for you?
Now that the above information has been read, it is understood that dental crowns are commonly chosen as part of a smile makeover. It is also understood that there are different types of materials used to make dental crowns, giving patients choices. Your next step is to make an appointment with a dentist to find out which type of dental crown is right for you.
Are you considering a smile makeover in the Dawsonville area? Get more information at https://dawsondentalgroup.com.
Check out what others are saying about our dental services on Yelp: Smile Makeover in Dawsonville, GA.
---
Related Posts
August 3, 2023
Wondering whether a general dentist can perform a smile makeover? Some general dentists are deciding to undergo the necessary training and education so they can offer their patients cosmetic dental options. Now …